Common objective crucial for success in coordination 
Coordination within civil engineeringand development projects is something that is constantly discussed and is considered to be beneficial for all parties. Despite this, we rarely reach the desired effects. The possibilities are many but obviously the obstacles are greater. Or the willpower? Ekan Management's experience is that the biggest villain in the drama is the lack of a common objective among the parties involved.
After last month's roundtable have Ekan workedat with ideas, models and solutions on how a common objective as well as the other two main shortcomings today - how trust and commitment, are created and maintained.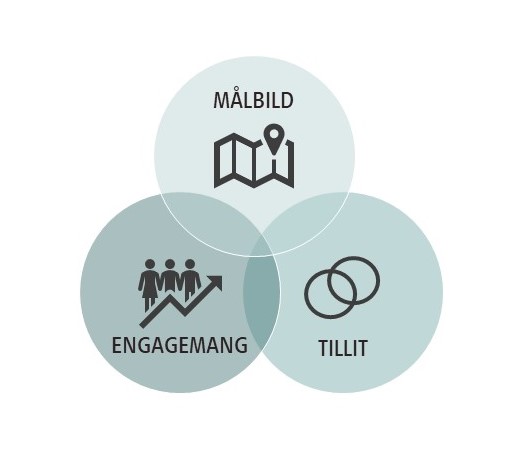 Various factors, incentives and industry cultures have been identified and dissected during the process of finding a model for coordination for civil engineering projects. The model has begun to take shape and in the coming month we will delve further into its building blocks. Identifying a common objective directly when a project is initiated among all project partners is vital. Equally important is it that each of the the parties involved break down the common objective and map it to their organization's goals. Only when this is done each organization will feel involved in achieving the common objective. All parties involved have different financial interests, business models and ways of financing, which you must have a great understanding of. At the same time it is possible to find common denominators, even from financial considerations. The solution is to establish a common objective from day 1 together with financial frameworks and incentives.
Coordination in different project forms
With a common objective, decision and start up meeting the project is running. Maybe it's a traditional detail planning process with some existing property owners starting up, or a developer-driven detail planning. No matter how the project is run and whether it is in the detailed planning phase, the planning or at the start of the construction, new project partners will join while others take on a more passive role in the project. Things change and even if the common objective for the project is the same, coordination must be constantly maintained by adapting, breaking down, adding and subtracting things. All this is so that the objective will remain anchored in all project partner organizations throughout the project.
Openly involving new parties in the project creates the conditions for the other keys to successful coordination - namely trust and commitment.
Ekan's goal is to create a model that gives concrete support to the person who has the coordination responsibility for the moment but also to the party that the baton is handed over to at a later stage. A model that stakeholders, construction companies, municipalities and property owners can feel comfortable and secure with. Everything to create the sustainable cities and communities of the future.
Ekan Management is happy to help you who are interested in the coordination issues, are in need of strategic project support, or is responsible for projects where friction has occurred, etc.
Do you want to follow our coordination work? Email Tim Pettersson at Ekan get notifications about news in the area!
At Ekan Management, we work daily and professionally to support and develop organizations in a time of constantly changing conditions. We contribute in business review, process analysis, management models, change management, digitization and portfolio management in real estate, social development and other industries. Welcome to get in touch!